Watch Marc Explain Isocorrosion Curves for Dilute Hydrochloric Acid and Sulfuric Acid
Marc Glasser is the Director of Metallurgical Services at Rolled Alloys. He's been with RA for nearly 9 years and has worked as a metallurgist in Material Science for 40 years.
He has a Bachelor's Degree in Metallurgical Engineering from Rensselaer Polytechnic Institute and a Master's Degree in Material Science from the NYU School of Engineering.
Our Metallurgical Services Team is available to assist customers with all of their metallurgical questions. For example; "What welding consumables should I use to weld one alloy to another alloy?" and "What alloy should I consider for this vessel for the furnace that I'm manufacturing?"
In addition, Rolled Alloys has a metallurgical laboratory where we assist customers by performing material analysis and other metallurgical investigations.
"This helps us to understand cause and effect when customer's parts are placed in service and which environments lead to different results. We strive to be current with the state of the art on the various alloys. The knowledge received from these different material analyses helps us be the industry leaders in heat resistance and corrosion-resistant alloys."
ZERON 100® FOR USE IN SULFURIC AND DILUTE HYDROCHLORIC ACID
Zeron 100 shows excellent resistance to corrosion in both sulfuric acid and dilute hydrochloric acid. The first isocorrosion curves below show the corrosion responses of multiple alloys in dilute sulfuric acid.
ISOCORROSION CURVES IN DILUTE SULFURIC ACID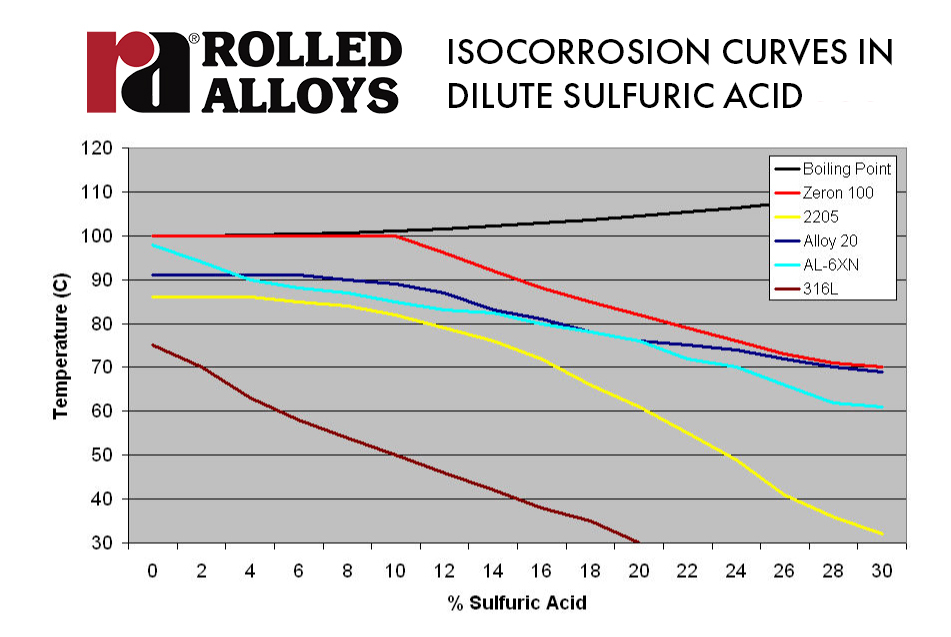 The full isocorrosion curve for sulfuric acid is shown below. The curve shows that over the majority of the concentration range, Zeron 100 actually outperforms Alloy 20. It is only in the concentration range between approximately 55 to 90% that Alloy 20 is a superior to Zeron 100. It should be noted that at last calculation, Zeron 100 plate was roughly half the price of Alloy 20. Furthermore, with a small, deliberate copper addition, Zeron 100 outperforms 2507 (UNS S32750) significantly in sulfuric acid across the entire concentration range.
ENTIRE ISOCORROSION CURVE FOR SULFURIC ACID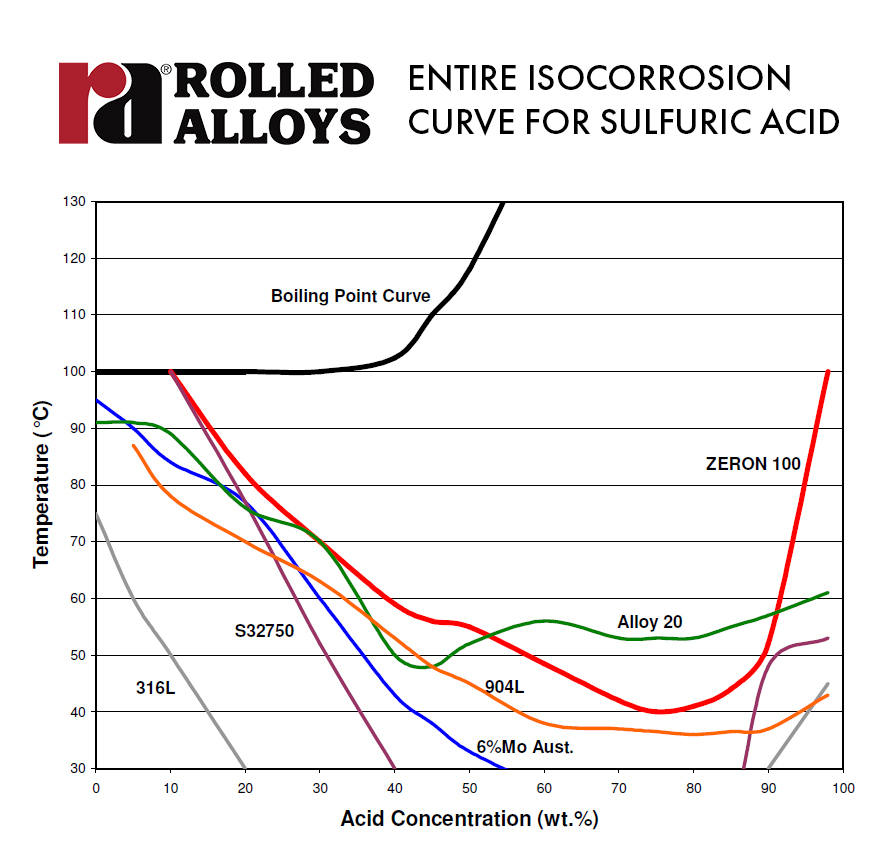 The slope of the Zeron 100 isocorrosion curve is shallower than the Alloy 20 curve, the 6Moaustenitic, and the S32750, making it a more robust choice particularly in the dilute concentrations.
Hydrochloric acid is extremely corrosive and finding corrosion resistant alloys that can withstand corrosion from this acid is a challenge. Once again in the dilute range, Zeron 100 presents a robust option.The isocorrosion curve for HCl in the dilute region is shown below. In this curve, one can see that Zeron 100 actually outperforms C-276 up to just under 8% acid. In addition, Zeron 100 is approximately a third of the price of C-276.
DILUTE HYDROCHLORIC ACID ISOCORROSION CURVE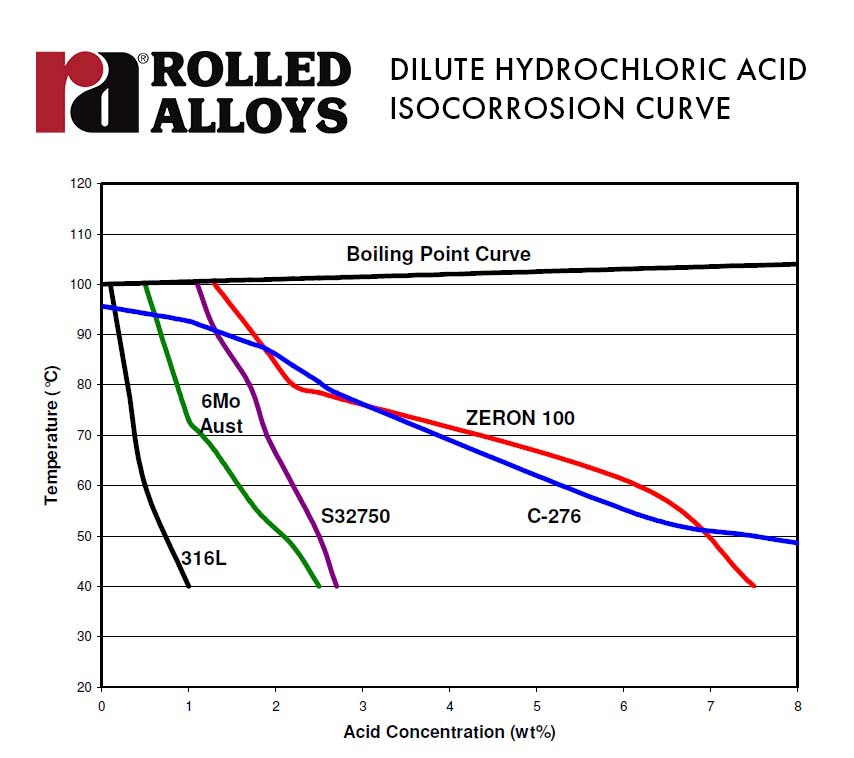 All isocorrosion lines represent a corrosion rate of 0.1 mm/yr or 0.004 inches per year, which is considered to be the acceptable limit for many corrosion applications. All points below the line will result in an acceptable corrosion rate. All points above the line will yield an unacceptable rate of corrosion. These unique isocorrosion responses of Zeron 100 offer potential users a very economical option in the dilute acid concentration range.
In addition, Zeron 100, with higher allowable stress limits per ASME than austenitic materials, offers a further enhancement: the ability to potentially use thinner materials because of the added strength. Such materials that allow engineers to design lighter, thinner parts, significantly lowers costs without any reduction in performance.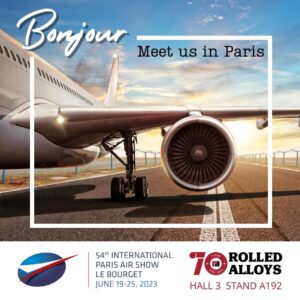 Events
Join Us at the 2023 Paris Air Show! Back To All Articles Share: More Articles